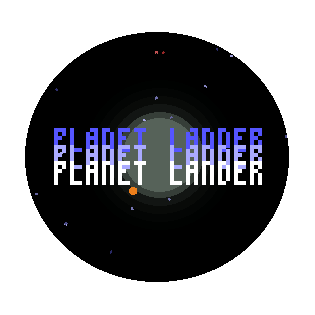 Planet Lander
A downloadable game for Windows, macOS, and Linux
Defend planets from spacial killer rocks!
Last all you can before your inevitable demise! How long can you survive before you are overwhelmed by the giant rocks and you and all the population of a planet dies!?
Inspired by old classics like Lunar Lander and Asteroids, this game has lasers, explosions, gravity and xenocide!

Take the place of the pilot of a powerful ship whose job is to travel from planet to planet to defend their people against giant heavenly bodies. In every planet, its friendly alien society will help you: If you find yourself low on fuel, land your ship and let them re-fill your energy! If you destroy an asteroid which was full of precious metals, you can collect the pieces and take them to the planet so a new extra ship can be built only for you!
Can you get the highest score? Can you be the very best Planet Lander of the galaxy?

---
To play on Windows download "PlanetLanderWin.zip", decompress it wherever you like, and double-click "PlanetLander.exe".

If you're on a snap-enabled (https://snapcraft.io/) Linux distribution, simply 'snap install planetlander' !

To play on Mac or a Linux distribution not snap-enabled, you will need to have LÖVE 0.10.x (Super Toast) installed on your system. You can download it going to https://love2d.org/

Play with friends! It's single player, but see who gets the highest score!

Thank you for playing!

Download
Click download now to get access to the following files: